Switching from Dry Van Hauling to Flatbed Hauling: What Does My Truck Need?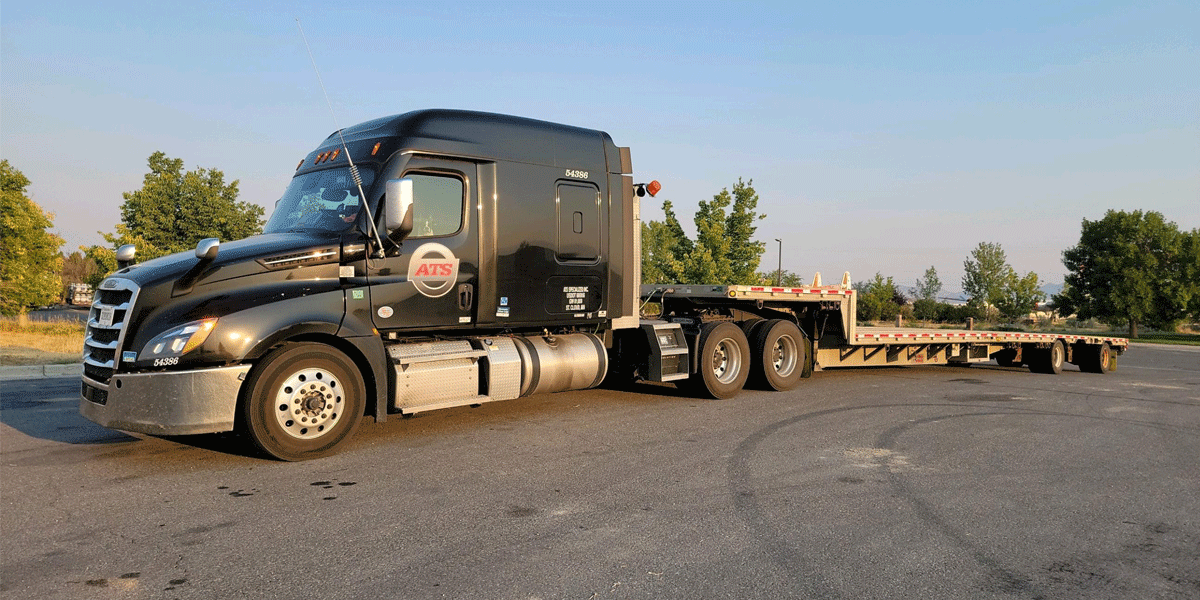 Subscribe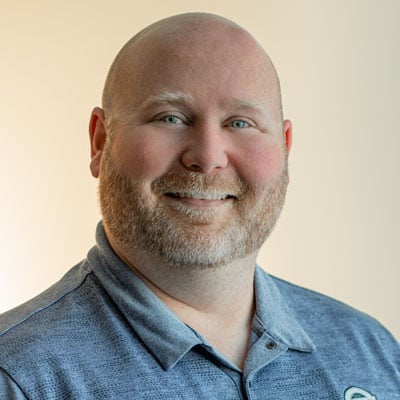 With over 7 years of experience in the transportation industry, John is a leading driver consultant on the ATS team. His focus is to find high-quality, professional, safe drivers – whether they are independent contractors or company drivers employed with ATS.
Are you an owner-operator that's making the switch from moving vans to flatbed trailers? Before you can make the change, first and foremost, you need to make sure your truck is ready to go.
Without the right tools and truck specifications, you can't get the job done properly and you can't haul flatbed trailers and specialized loads.
As a driver consultant at Anderson Trucking Service (ATS), I get calls from drivers all the time wondering what they need to do to equip their truck for this new career venture, so I've put together a list of the tools you'll need, where to purchase them, the importance of these tools and the consequences of not getting these tools.
I'll also discuss how you can find a good company to sign on with as an owner-operator so you can feel comfortable as you navigate this new career path as a driver.
When you're finished reading, you'll be ready to go out and purchase all the tools you need to start your flatbed journey.
6 Tools To Get You Ready for Flatbed Hauling
You'll need to purchase all these tools before you can move a flatbed trailer.
Headache Rack
A headache rack holds all your chains, straps, binders and any other securement tools you may carry with you. Some companies require that you have an enclosed headache rack so tools are protected from the elements.
For example, in the winter the chains can get full of snow and in the summer they can get wet. An enclosed headache rack, though more expensive, can also prevent your securement tools from getting stolen.
A headache rack is necessary for a few reasons. First, you need to have a safe place to store your securement materials. The Department of Transportation (DOT) states these cannot be stored inside the cab of your truck for safety reasons.
Second, a headache rack can protect you in the event of a load shift. If a driver slams on their brakes and the load shifts forward, the headache rack can take some of the force and protect the driver in-cab.
Headache racks can cost between $3,000 and $5,000.
Removable Gooseneck Sliders
Removable gooseneck (RGN) sliders are an optional tool if you don't plan to haul RGN trailers. However, they're required if you plan to haul RGN trailers. The ramp kit allows the RGN trailer to slide up and onto the fifth wheel. Without the sliders, you won't be able to get the trailer up on your fifth wheel.
If you don't have RGN sliders, you can still haul other flatbed trailers, like step deck trailers.
Beacon Lights
Beacon lights are orange safety flashing lights on the top and sides of the truck and trailer. These lights show other drivers that you're hauling an oversized load. The DOT requires these lights.
You can easily spend hundreds of dollars per light on these.

Flag Brackets
Flag brackets or flag holders are required by the DOT, just like beacon lights, to alert other drivers on the road that you're hauling an oversized load. You also need two flags — one for each bracket.
You can get each bracket for under $40 and each flag will cost a couple dollars.
Oversized Load Banners
An oversized load banner sits on the front and the back of your truck and lets fellow drivers know you're hauling oversized equipment. Again, the DOT requires these banners to be displayed if your load is above specific dimensions.
The banners cost around $20 each.
Securement Materials
You'll need a wide variety of securement materials to ensure your loads are legal, properly secured and properly tarped (if required). That means you'll need everything from chains and straps to binders and different types of tarps.
Depending on whether you sign on with a company, you may have a list of tools the company requires you to carry with you at all times. This may include smoke tarps and general tarps, a tarp repair kit, ratchet binders, bungees in different sizes, chains and straps in different sizes and tools that'll help make securement easier.
Tarps are costly and can run hundreds of dollars depending on their size and how sturdy they are. Straps and binders are much more affordable at a couple bucks each, but chains can cost $30 and higher.
Check out this list of flatbed securement tools to make securing and tarping easier. Their prices are listed as well.

A Note on Truck Specifications
Not only will you need these tools to haul flatbed trailers and secure your loads, but you'll also need your truck to meet certain specifications.
For starters, the truck itself needs proper trailer swing clearance once the headache rack is added to the truck. Without proper swing clearance, your trailer will hit your truck when you turn. In most cases, there should be 68-70 inches between the center of the fifth wheel to the corner of the box. Anything less than that and your trailer will hit the corner of your truck.
If you don't have swing clearance, your truck won't be able to haul certain flatbed trailers.
Keep in mind the company you're contracting with may have different specifications than the ones noted above.
Fifth wheel height will need to be at a specified height as well to ensure it's low enough to get under trailers. This needs to be measured with fully inflated airbags. At ATS, the fifth wheel height needs to be between 47 and 50 inches.
Drivers are also required to make sure their trucks can pass a DOT inspection. Most companies require this, so be sure everything is installed and working properly.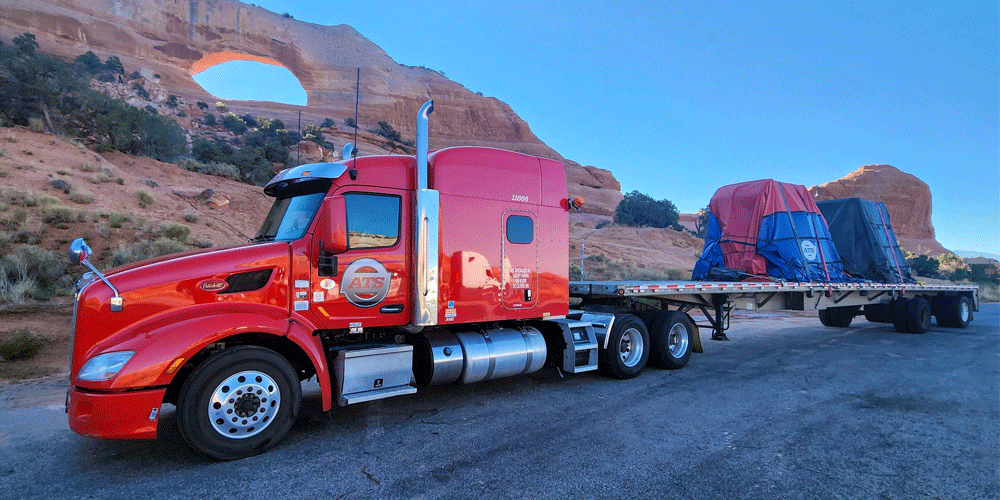 Purchasing Tools for Flatbed Hauling
It's quite an investment to get all the tools you'll need when transitioning your truck from hauling van trailers to flatbed trailers. It can cost anywhere from $5,000-$10,000 plus the added cost of securement materials.
You can purchase these tools at local dealerships, online, in trucker catalogs and at used truck equipment yards.
See if the company you're signing with will help you finance anything. Some companies will help you purchase the materials or they'll give you access to discounts. Some companies — ATS being one of them — will help you finance the equipment by investing a set amount of money for tools corresponding to every mile you haul.
For instance, if a company is paying out four cents-per-mile, and a driver takes a 1,000-mile load, they'd get $40 toward equipment.
Most companies will allow you to rent a trailer, too.
Sign On With the Best Flatbed Company
Switching from hauling vans to flatbed trailers as an owner-operator doesn't come without its expenses, but it's a great career move that allows you to make more money.
If you've never hauled flatbed loads before, consider signing on with a company that offers securement training. That way you'll not only learn what materials you need to carry with you in your headache rack, but you'll also learn how to use the tools to secure your loads properly.
This article details the importance of flatbed securement training.
If you do plan to sign on with a company as an owner-operator, and you won't be hauling freight under your own authority, be sure you ask the companies you're considering the right questions. Even though you're an independent contractor, you still want to ensure you align with the company you're hauling freight for.
This article discusses seven questions you should ask before leasing onto a carrier as an owner-operator.