2023 Highest Paying Truck Driving Jobs (That Aren't Ice Road Trucking)

Subscribe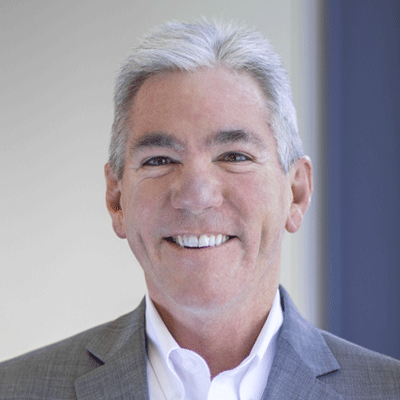 With over 30 years in transportation, Joe has developed an appreciation for the industry and how vital safe, high-quality drivers are to a company's success. As the (former) vice president of driver recruiting, Joe led a team of driver consultants while finding creative ways to attract drivers to ATS. He began his career earning a criminal justice degree while serving in the U.S. Army and joined ATS after being honorably discharged in 1990. During his time at ATS, he's served in various roles, including general manager of ATS International.
Do you want to be one of the highest-paid truck drivers in the country or even the world?
Are you looking to make the next move in your trucking career?
If you want to be one of the highest-paid truck drivers in 2023 and beyond, you need to push your skills, keep your driving record clean and be willing to take a risk hauling oversized or hazardous loads.
Otherwise, you may be a driver who is struggling to make ends meet rather than a driver who is raking in a salary above six figures.
The demand for drivers is high right now and the loads are hot. Not only do you want to find the highest-paying trucking jobs, you want to find the highest-paying trucking companies that will treat you with respect and pay you the money you deserve.
The top-paying truck driving jobs in 2023 include:
Specialized Team Drivers
Overdimensional/Heavy Haul Drivers
Hazmat Haulers
Refrigerated Goods Drivers
Private Carrier Drivers
Car Haulers
These truck driving positions pay more due to:
High risk
Liability
Experienced, skilled drivers
Quick deliveries
Here at ATS, we've been in the trucking industry for 65 years. We've watched the industry change and adapt as technology has improved and the demand for specific goods has increased. So, we understand how the highest-paying jobs have changed through the years as well.
By the time you're finished reading this article, you'll have a much better understanding of the types of trucking jobs that will pay you the most and why.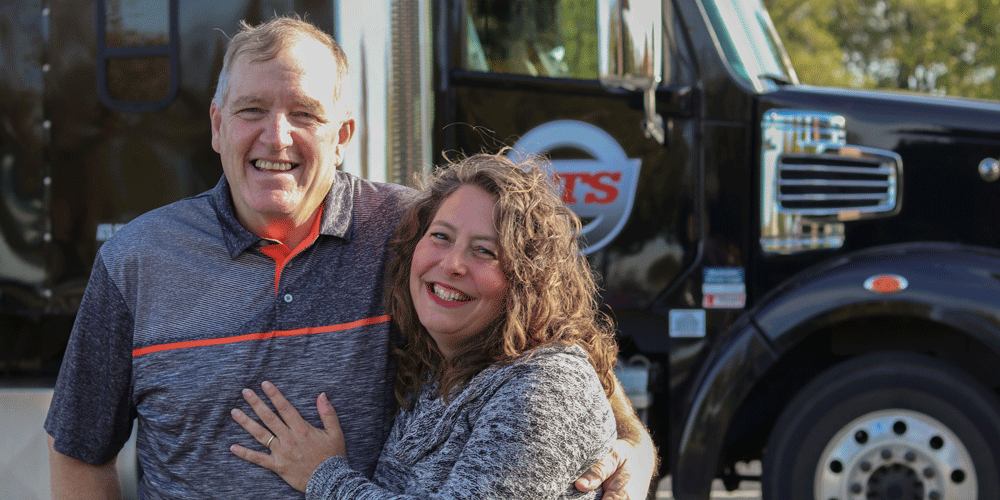 1. Specialized Team Drivers
Team drivers that work in specialized fields, like Department of Defense (DOD) team drivers or armored truck drivers, are paid high wages because they are hauling protected equipment. One driver may drive while the other acts as a guard. Whether you're hauling firearms, other self-defense equipment or straight-up cash, you will need to undergo a thorough background check and meet security clearances.
The application that allows you to work for the federal government or national security is so intense, many drivers simply don't even get through the entire process. It can take upwards of eight hours to fill out the application and it can take weeks for your background check to go through.
You will need to thoroughly answer questions about your citizenship, where you've lived, where you went to school and where you've worked. You'll need to detail your psychological and emotional health, your drug use, your foreign and professional activities, your marital status, your financial records and your criminal record. Not only will you need to provide information about yourself, but you will also need to provide details about close friends and your relatives.
The thoroughness of the background check is to ensure you and those around you have good intentions. It is very easy to fail the process.
While teams have to split the revenue, drivers can still make upwards of six figures each year. As long as you qualify for the position and can pass specific security clearances, team driving can be a very lucrative career for you.
2. Overdimensional/Heavy Haul Drivers
Heavy haul drivers haul freight that is over-width, over-length, over-height and overweight. The more axles, the bigger the freight and the heavier the load, the higher your income.
Heavy haul driving comes with a lot of pride, but it also requires drivers to have a lot of experience — sometimes upwards of ten years. Heavy haulers must follow different rules and regulations to avoid slowdowns and damage. There are both federal and state regulations on size and weight limits that drivers need to follow. Regulations are always changing so heavy haul drivers need to keep up on best safety practices and securement training.
Hauling equipment like pressure vessels, space shuttles and wind turbines requires a very experienced driver with impeccable maneuvering skills and hand-eye coordination.
Being a heavy hauler requires not only a certain level of experience, but also a specific kind of driver. Hauling over-dimensional loads can feel like one giant puzzle — not just when the load is being secured, but when navigating tight turns. You need to be a patient driver who never tries to cut corners — doing so can very well ruin not only the cargo you're hauling but cause major damage to your truck (and possibly yourself).
Because of the advanced skill heavy haulers need, they can make in the six-figure range each year.
3. Hazmat Haulers
Hazmat hauling, or hauling hazardous materials, in a tanker can be a dangerous job. More often than not, drivers are hauling flammable liquids and corrosive substances in a tanker. Sometimes they haul hazardous materials in dry vans.
Hazmat drivers are not only responsible for hauling the load, but they also have to load and unload the hazardous materials. This can put drivers at risk of exposure to the fumes from caustic and explosive materials, such as gasoline, when they are piping out materials.
Hazmat haulers require a special skill set. Loads should be handled with the utmost care and extra precautions must be taken to ensure loads are hauled safely and legally. Drivers not only need to be safety-oriented, but they also need to be adaptable.
Due to the danger of the job and high liability, hazmat drivers are among the highest-paid truck drivers. Drivers need special endorsements on top of their CDL. A hazmat endorsement will allow you to transport hazardous materials. To drive a tanker, you will need either an N endorsement to haul over 1,000 gallons or an X endorsement which gives you both the N endorsement and the hazmat endorsement.
While some tanker drivers aren't hauling dangerous materials — they're hauling supplies like milk or water — hauling liquids can be difficult to transport so drivers typically earn a minimum of $60,000 each year.
Hazmat haulers can earn upwards of $87,000 each year.
As a hazmat hauler or tanker driver, ensure you find a reputable company that will pay you what you're worth.

4. Refrigerated Goods Drivers
Refrigerated goods are always in demand, which means that reefer (refrigerated trucking) drivers are also in high demand and have the high salary to show for it. Both customer service and precise deliveries are critical for reefer drivers. This makes it a high-pressure job.
Goods need to be delivered in timely fashion or they may spoil. The value of the goods in conjunction with their shelf life and the cost of equipment demands drivers earn a higher rate.
Deliveries often need to happen in the morning, so as a reefer driver you'll need to be comfortable with night driving. The tanks and refrigeration unit run constantly and use more fuel than a dry van does. Drivers need to control this equipment because equipment malfunctions can lead to food spoilage. Food spoilage means money down the drain.
The repairs on reefers are also costlier when compared to other trailers, like a dry van. The reefer will also need to be washed and cleaned between loads to maintain food safety standards.
The added responsibility of driving a reefer truck ensures drivers make a great salary.
Top earners make upwards of $80,000 each year. The job may be intense, but the work will always be steady.
5. Private Carrier Drivers
There's a reason being a truck driver for a private carrier — like Walmart, Pepsi or Sysco — is one of the most coveted positions around. And we're not talking about hauling a load or two of excess freight for them here and there. We're referring to company drivers who drive a dedicated route solely distributing goods for that particular company.
Because they're only hauling their product, private fleets don't have the overhead costs a trucking carrier would. They make their freight lanes and distribution channels.
Private carrier drivers can expect upwards of $75,000-$80,000 each year at a company like Walmart.
Don't expect to get a job with a private fleet straight out of driving school. Private fleets expect their drivers to have a clean driving record backed by years of experience. If you have moving violations and preventable accidents on your record, you'll probably need to find a different driving position. You may be out of the running if you have a criminal record too.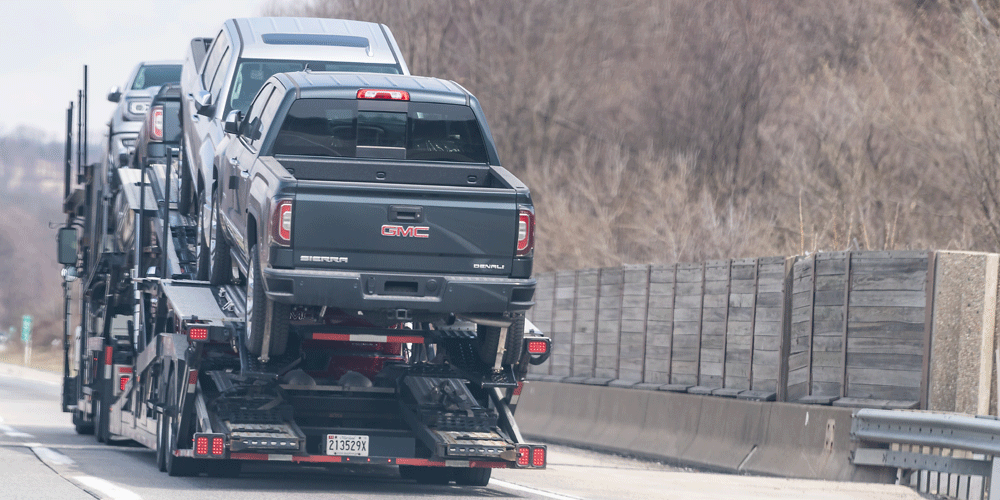 6. Car Haulers
The level of expertise required to haul cars makes it a top high-paying trucking job in 2023. Not only do you have to be an expert, but you also have to be patient and detail-oriented to ensure your loads are secure.
Car haulers will drive either an enclosed trailer or an open-sided, double-decker rig that can carry up to nine vehicles. You may be hauling a private collector's antique collection or you could be hauling brand-new cars to a dealership.
Regardless of the type of cars you're hauling, you'll need to be a driver with a minimum of two years of over-the-road (OTR) experience and a spotless driving record.
Car haulers need to load and unload cars from the trailer, which requires perfection not only in spacing when you load and unload but in strapping and securing the vehicles.
This is a perfect driving job if you love cars.
Car haulers typically make a minimum of $70,000 but some drivers make well over six figures each year.
What About Ice Road Truckers?
A quick note on ice road truckers: While you may be wondering why ice road truckers aren't on our list of the highest-paying trucking jobs in 2023, it is done so intentionally. While due to the nature of the job, ice road truckers have the opportunity to make an entire years' salary in just a few months because they take major risks.
The job is not only dangerous, but it comes with a list of restrictions. Drivers must not only have excellent driving skills in extreme winter weather, but you'll need to be able to drive in Canada. Many companies prefer Canadian citizens for this reason.
Because television has popularized this type of driving, only a small fraction of drivers that pursue the ice road trucking lifestyle secure this job.
Keep On Trucking!
Do any of these positions sound like they're the best next step for you?
If so, chances are that you need some more experience before you can get there. Here at Anderson Trucking Service (ATS), we have well-paying heavy haul positions and can help you get the OTR experience you need to move into one of these positions.
If you're not up for hauling hazardous materials or cars, we are a Top Pay Carrier with dry van, flatbed specialized and heavy haul positions.
The top 10 percent of owner-operators that work with ATS can earn upwards of $350,000.
Fill out our application to secure a position with the pay you deserve.